Tips, Discoveries, and Recommendations from our Recent Trip
by Laura Ranieri Roy
You can't travel now… certainly not to Egypt??? There's COVID out there! Pish tosh I say. With the right precautions, good health and a "let's get on with life attitude" you certainly can.
So sure, scroll to the end… for what I learned about travel protocols and safety in Egypt post COVID. But that's really the boring, practical stuff. You'll really want to hear what I "unearthed" during our amazing three-week adventure.
Let it inspire your next journey to Egypt – whether on your own on or one of our upcoming expert-led tours.
12. The Oldest Obelisk – and a New Open-Air Museum in Heliopolis
Bleary from landing at Cairo airport, I still had to ask. "Any way we can take a quick peek at that old Obelisk of Senwosret I?" As many know, the airport today is in Heliopolis, the city of the sun in ancient times, the domain of the sun priests of Ra – and believed to be the original place of creation. So, when you touch down in Cairo, you land at the site of creation!
I fully expected all that remained was a Middle Kingdom obelisk. How delighted I was to be wrong. We found the temple of the sun recreated, in part.  The 20 m high obelisk itself from the 12th Dynasty has been standing almost 4000 years in this place, in the El Matareya area of Heliopolis Cairo, a rather hard-to-get-to, poor area. However, with new work on Cairo roads under Sisi, it is becoming far more navigable.
Back in 2017, this is near where a German Egyptian team found the enormous statue of Psamtik I (first thought to the Ramses). Since that time, all sorts of finds have been unearthed and displayed near the Obelisk, dating back as far as the reign of Teti. It is today an open-air museum well worth exploring. Apart from the museums, it is in fact one of the only places to find Pharaonic ruins in Cairo! And few go there!
11. The Egyptian Museum – Yes, the Tut treasures are still there, but the tourists are not.
I also expected the Egyptian Museum in Tahrir to be emptied of its golden Tut treasures. It is not. At least not yet… maybe not until the end of the year. Who knows? While the chariot and a few key pieces have gone for restoration, so many remains, including the entire treasury room with the mask (no photos allowed) where we spent 10 minutes in private with the guards.
Also noticeable are the great changes afoot as the museum transforms into a museum of masterpieces. No longer the crazy overcrowded warehouse we have known and loved.  And incidentally, an echoey and virtually empty museum after a few local school groups left. Magic to be there.
 Meidum Geese will get a new display
We met a conservationist working on a display for the 4th dynasty tomb of Nefermaat and the Meidum Geese on the first floor. Rather than just tucked away in the back of the room, in coming months/year you can expect to see the Meidum Geese masterpiece properly displayed with the reverence it deserves, with clear descriptors and maps of its provenance spot, etc.… all in the main corridor of the first floor.
Already, better displays have been mounted on the second floor for the wondrous treasures and mummies of Yuya and Thuya, great grandparents of Tutankhamun.
10. The Shiny New Giza Plateau & 9 Pyramids Lounge
No Grand Egyptian Museum opening on the horizon yet, I am afraid (June 2022?), but the plateau is already getting a significant makeover. We witnessed a new phenomenon: jolly orange caleches (horse and buggies), transporting tourists from pyramid to pyramid. It seems cleaner, fewer hassle traps, new roads. And perhaps most exciting – the new 9 Pyramids lounge restaurant high on the plateau with awesome views of all three pyramids.  Long overdue – a gorgeous place for lunch, reservations required.
9. Undiscovered Aswan – experiences you simply must have!
I could wax poetic about the beauty of Aswan – so many things to explore. I now officially join the multitudes who swear it is the loveliest place to be in Egypt – and where I would want to be in winter, long-term stay, even live. Even in the 50 plus heat of August, it is marvelous.  Here are a few things we did, I heartily recommend:
High tea or drinks at the Old Cataract Hotel watching the sunset. We stayed 4 nights and were treated to a historic tour… I sat where Agatha and Winston sat. The views of the Nile and Elephantine Island are sublime – and the pool is paradise.
A boat trip to the first cataract – and stop for drinks with a view on Saheel island, the new Krouma cafe. We saw moorhens, ibises – and even some basking water buffalos. The most tranquil adventure on the Nile!
Visit the Island of Kalabsha – and the Temple of the Nubian god Mandulis. So much to see on this lovely little island right across from the new Aswan dam on Lake Nasser -a lovely boat ride too. This pristine Roman-Ptolemaic temple is a special jewel to explore. Then there is a beautiful little Hathor column temple – and remains of temples dating to Ramses II as well with some excellent reliefs. You also find the famous victory stele of Psamtik II recounting his campaign against Kush
Dining at Macca – in the Aswan Spice market. My special recommendation. Fresh delicious cuisine in an unpretentious eatery for such reasonable prices. A must-stop for a meal. Lovely family who owns it.
Sunset camel ride to San Simeon Monastery – We went by road this time, my friend Jeanne and I – and meditated a little outside the gate. In my opinion, it is still the most spiritual place for me in Egypt – dating to the 8th c or earlier. (Closely rivaled by Denderah and Sultan Hasan Mosque) Lovely to travel by camel up the sandy cliffs at sunset.
7.  Fayoum – the Garden of Egypt
We took three days to relax on the shores of Lake Quarun south of Cairo in an area called the   Fayoum. The grand hotel here is the Auberge Fayoum – formerly Prince Farouk's hunting lodge and a fine stately manor. However this time we stayed at the new Lazib Inn, the endeavour of a Swiss hotelier, who is also behind the Four Seasons.
This unique all-suite retreat within Tunis craftsman village – is an oasis of calm, especially after Cairo. Every room has a jacuzzi and there is a lovely spa, though it was closed at the time of our visit. As one Cairene couple holidaying there to get away from the kids said "The best oriental breakfast" ever. Very nice for a short stay. It's also a great place to stay if you want to go sandboarding in the desert – or take a sunset sail on Lake Qarun
See whales in the desert at Wadi el Hitan

No-one who comes to Egypt should miss the experience of a Western desert safari. Especially at Wadi el Hitan, the valley of the whales. Here you will find an unworldly landscape of strange rock formations – walk for miles and discover many skeletal remains of Middle Eocene creatures – the Basilosaurus and Dorudon whales – along with crocodiles, sea snakes and sea cows.
6. The S.S. Sudan – the Nile's first passenger steamship
We were extremely fortunate to spend an elegant evening touring and dining aboard the historic S.S. Sudan. This legendary ship still plies the Nile between Aswan and Luxor with six-star, white-glove service. Launched by Thomas Cook nearly one hundred years old, the Steam Ship Sudan is the last witness to the Belle Epoque days of Nile cruising. There is simply no other vessel like it enduring on the river today. You can still book a voyage on this iconic ship, but only through their special agents based in France. Here is the link.
5. Luxor – see some lesser-visited Nobles tombs – and glimpse the new city of Ta'en Aten
The West bank was hot – very hot – when we journeyed there one hot August morning. But we did climb up to old Qurna to see a few more newly opened treasures. Like the tomb of Amenhotep Huy (TT40), King's son of Kush, one of the few datable to Tutankhamun.  I love how all his titles are co-mingled with rosettes on the ceiling
And the lovely little tomb of Amenemonet (TT277), who was a 19th dynasty priest serving in the temple of Millions of Years – the now God Amenhotep III.
4. Karnak, Renovations, Avenue of Sphinxes…and the recently opened Ptolemaic temple of Opet
Wonderful work is transpiring at Karnak, even in the dry "mummifying" heat of August.  The team is busy readying the most massive, ancient, and astounding religious site in the world for the return of tourism… They:
Are restoring the beautiful colours in the great Hypostyle Hall of Ramses II and Seti
Preparing to reopen the grand avenue of the Sphinxes (nearly 2 miles long) connecting Karnak and Luxor temples, where lavish processions took place during the ancient Opet Festival.
Opened the beautiful little temple of Opet Weret – a female hippo deity – with some stones dating back to early 18th
Found an uraeus on some of the Sphinxes – the ones of Nectenabo, just inside the first pylon!
3. Don't miss Gaddis Bookstore – a historical must-stop on any Luxor tour
Ehab Gaddis OBE and his lovely wife have taken on the legacy of his grandfather Attiya's print, book, and souvenir shop, located at the steps of the Winter Palace hotel. But it's a lot more than quality jewelry and beautiful prints with no hassle– it's an important part of Luxor's history. This is where one of the very first photographers honed his craft from 1907 on. Attiya Gaddis was an Egyptian early pioneer in photographic arts who must have rubbed shoulders with Carter and Carnarvon. He captured on glass plates –  the wonders of the Tutmania era.  Come in and see the vintage camera – one of the world's first – and the amazing prints of Luxor in the early 20th century.
We were honoured to spend some time interviewing the Gaddis' on their amazing legacy and the special place their store has in Luxor's history.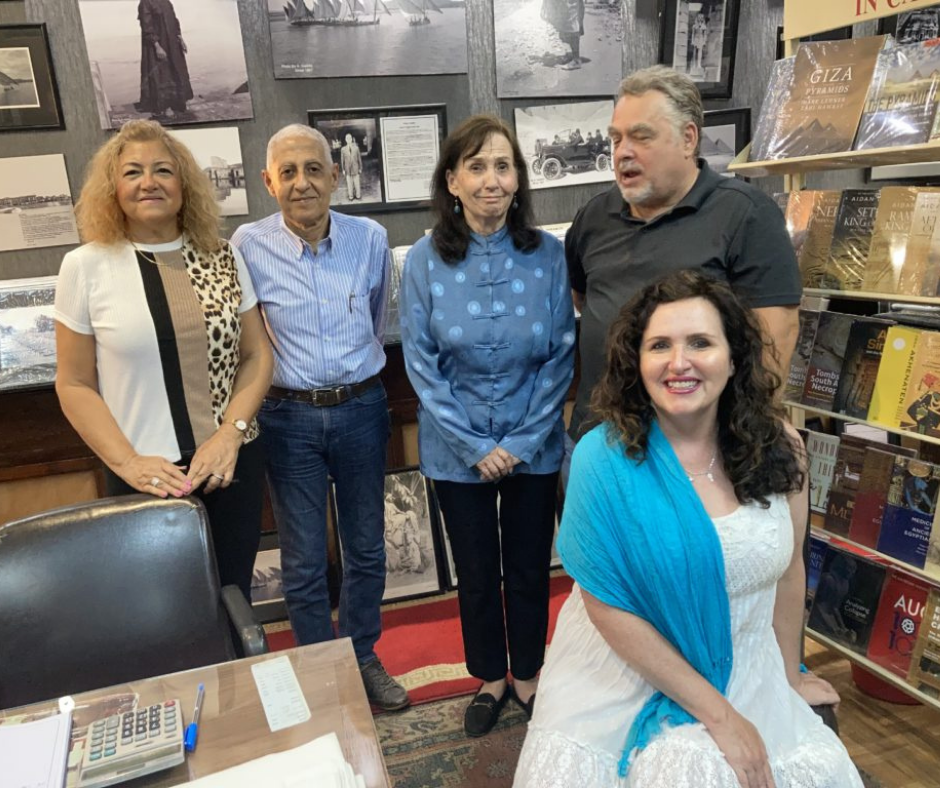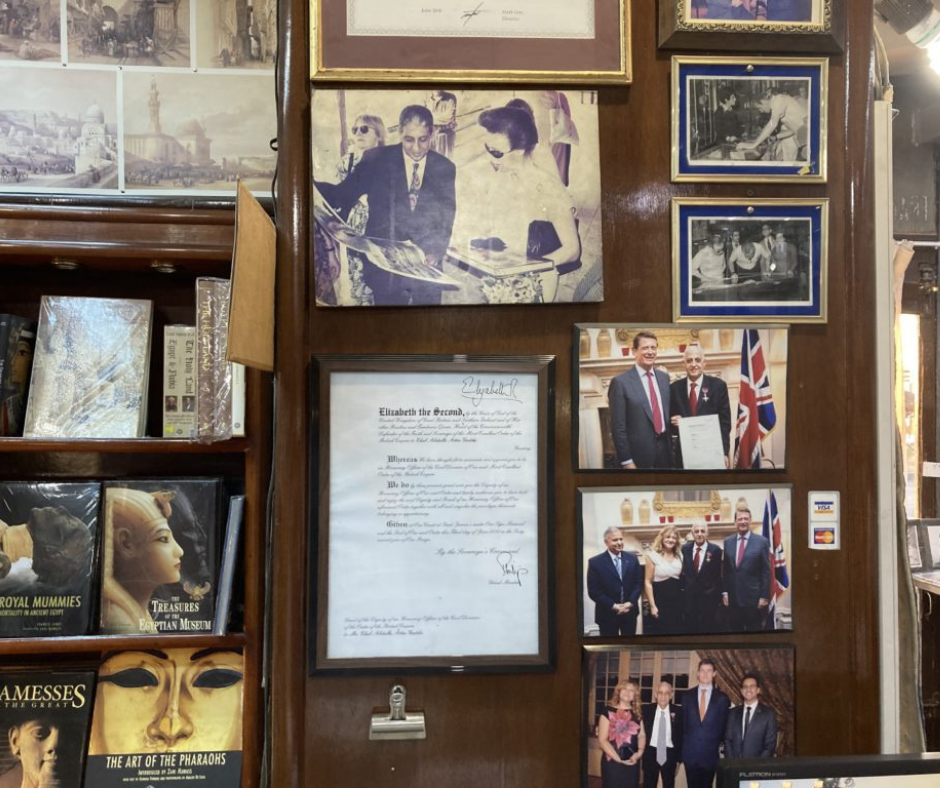 2. Aboudy Break – best delicious "cheap" eats in Luxor– above the fabulous bookstore and with views of Luxor Temple!
– Everyone knows Aboudy Bookstore – an amazing place to shop in Luxor. But have you dined rooftop at their restaurant? For less than $16 we had a massive pizza and salad feast with fresh lemon and mint juice! Amazing. I heartily recommend this.
1. The Sofitel Winter Palace.
It is exquisite. It exudes history. It is a wonderful place to stay, visit, dine – or drink in the luxuriant library bar. I simply love it. And I haven't even mentioned the gardens. No visit to Luxor should be without an experience of this lovely hotel. This trip, we stayed here for the first time in a historic room – and were upgraded one night to one of Howard Carter's rooms. Talk about time travel.
Our Treasures of Tutankhamun tour will stay here while in Luxor, November 2022.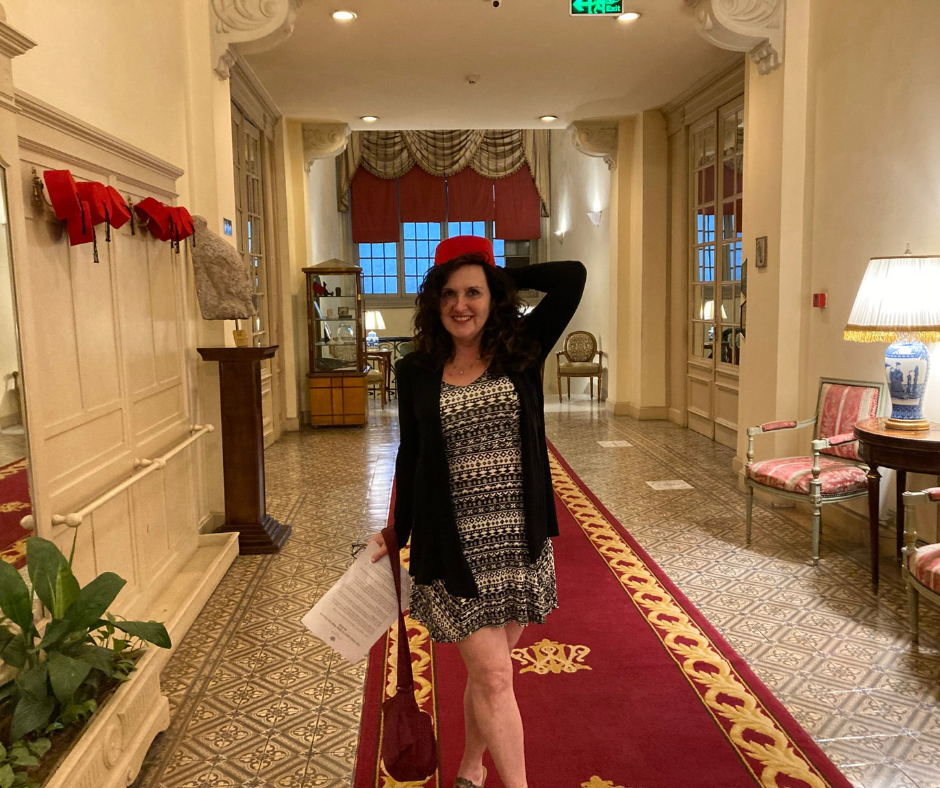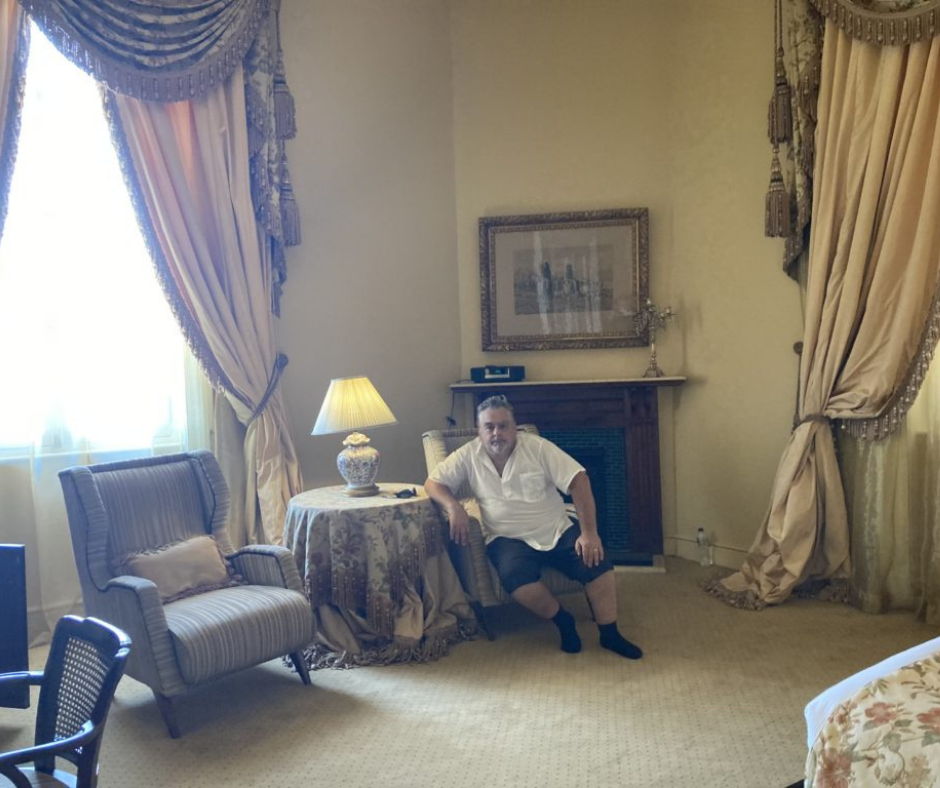 COVID stuff.  Yes – You can get there from here — and back, safely.
Firstly, Egypt requires EITHER a PCR test to enter OR a double vaccination certificate with a QR code. And Canada requires a PCR test to return, Vax or not, which we got in Hurghada for $30 USD (Luxor probably $80 USD).
The country is certainly implementing safety precautions. Most Egyptians – especially those in tourism – have been or are getting double vaccinated now.  Temperature checks are in place entering all hotels, social distancing protocols. There are no wide-open buffets (service and plastic protective barriers– and cutlery with plastic wrap. Masks are worn by all service staff everywhere. No, there are not always the rigid protocols of North America everywhere – but certainly enough that make good sense.
For goodness' sake if you are thinking of travelling to Egypt… just go.
###
For more information about our tours to Egypt <click here>
Or email us for bookings and details.
###