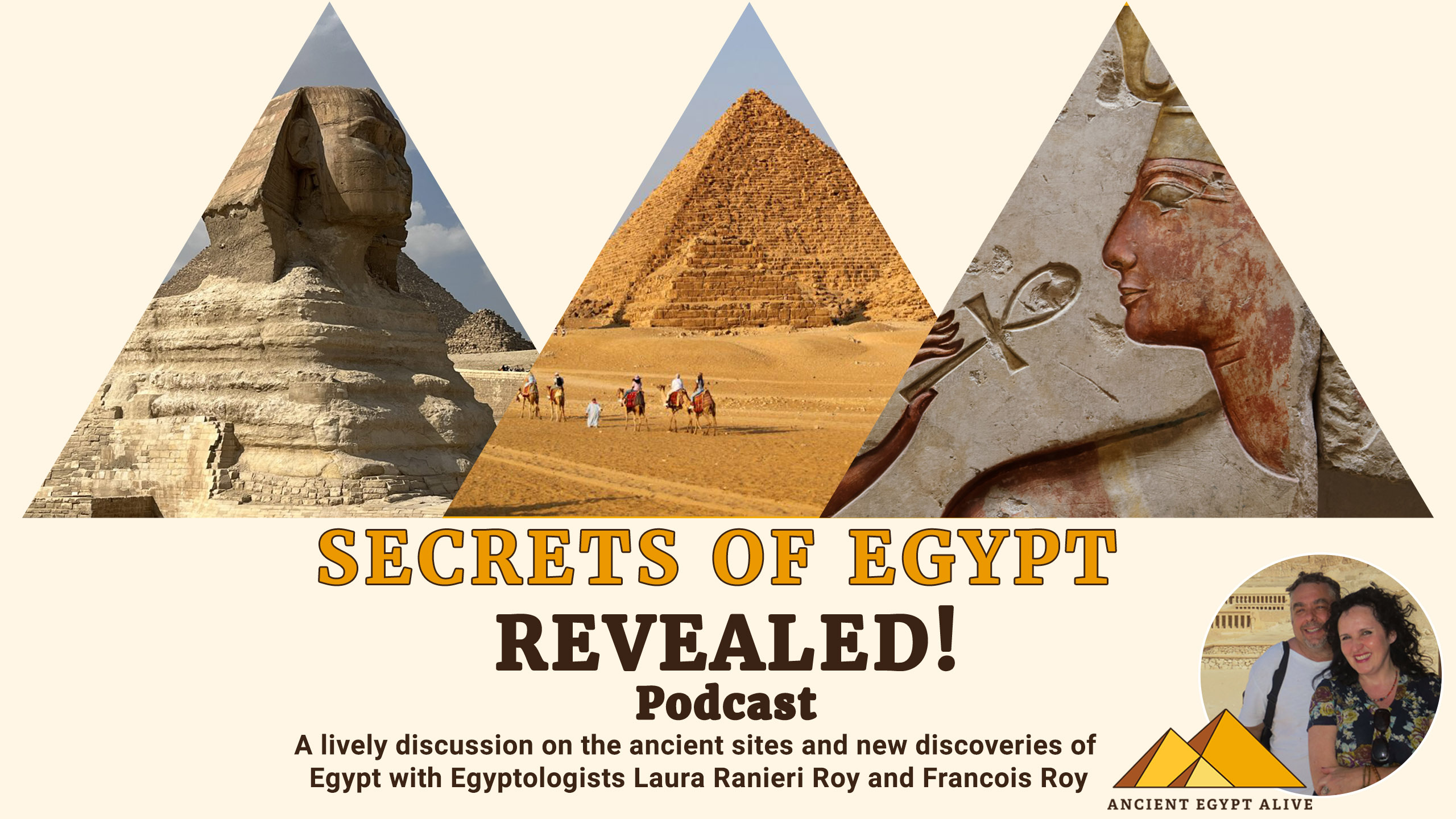 Be inspired and enriched with the Secrets of Ancient Egypt Revealed podcast!
Immerse yourself in Egypt's temples, tombs, pyramids, and museums- and learn about ancient secrets and latest insights. Let Canadian Egyptologists Laura Roy and Francois Roy bring timely topics in Ancient Egyptian history alive in a lively discussion- with special expert commentary from Egypt.
Every episode we take you to a different site in Egypt- revealing its past, present, and recent discoveries- and eternal mysteries. Tune into this lively and informative podcast featuring two engaging Egyptologists… and feed your fascination and knowledge about all the things Ancient Egypt!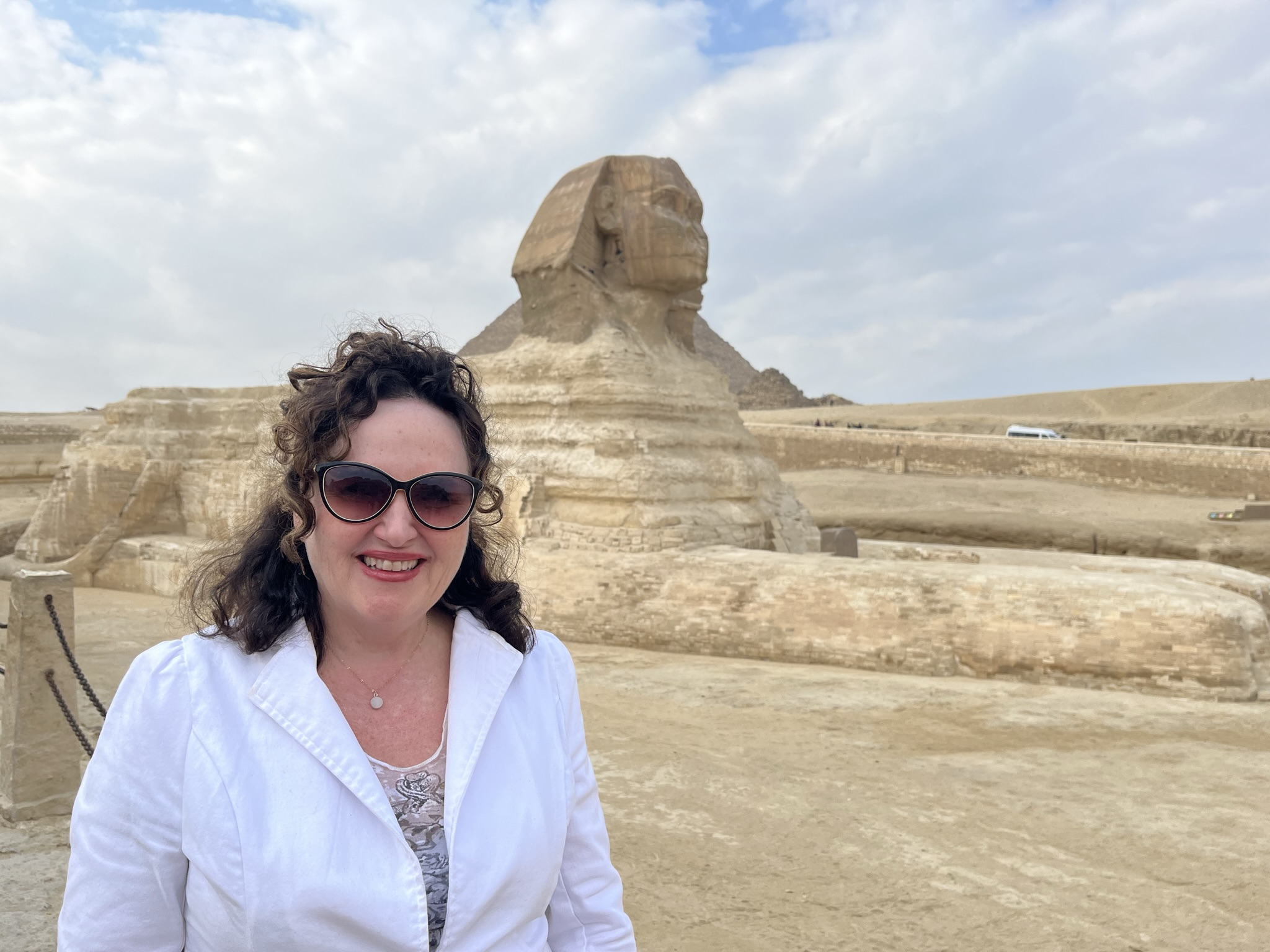 Laura Ranieri Roy is an Egyptologist, writer and founder-director of Ancient Egypt Alive – an organization that seeks to inspire passion about Egypt's past. Laura holds an MA in Near & Middle Eastern Civilizations with a focus in Egyptology from the University of Toronto (and a BA in drama and English). She has excavated at the ancient Greek site of Apollonia Pontica in Bulgaria, and in Egypt at the site of Amarna (Great Aten Temple). An engaging and in-demand speaker, Laura has taught at museums, historical societies, and academic conferences across North America. In 2023 she presented her first TEDx Talk on Legacy in Ancient Egypt.
Laura is a regular lecturer at the Later Life Learning Institutes of the University of Toronto (LLL), Toronto Metropolitan University (Ryerson's The Life Institute), York University (LLIR) and Trent University. She has also spoken for private international groups around the world, including organizations in England, France, and Hong Kong.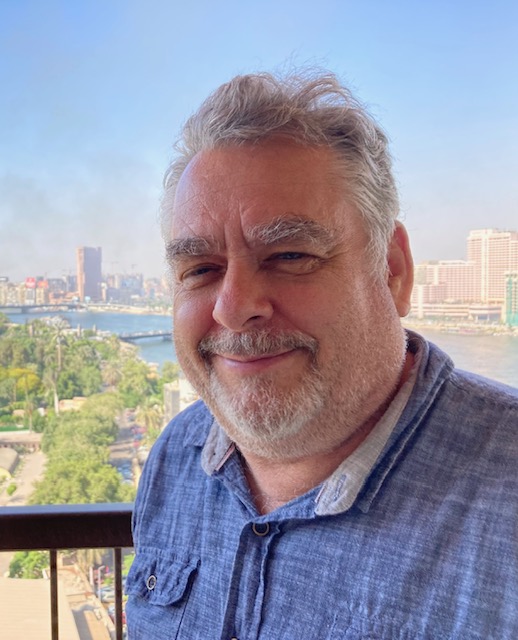 Francois Roy is a partner of the Canadian Egypt education business Ancient Egypt Alive. He graduated with an MA in Near and Middle Eastern Studies from U of T in 2008 and also holds a degree in Modern European history and military history from the University of Alberta.
With a background in classical and modern European history, he has excavated in Campania, Italy at the 6th Century BCE site of Roccagloriosa, at the ancient site of Buxentum (600 BCE to 200 BCE), along with prehistoric sites in Alberta – and at the 25th Dynasty site of South Asasif, west bank Luxor, Egypt in 2015. He has lectured at the SSEA colloquium and at select schools and museums across North America.
Producer and Sound Engineer
Dominique Roy is a musician, sound engineer and radio producer based in Edmonton, Alberta.  Over a career of more than 30 years, he has become a respected radio producer for CBC/Radio-Canada, and has been at the helm of scores of radio broadcasts and recording projects, both in French and English languages. Most recently Dominique has been technical director for radio shows such as La croisée and the inaugural season of La Place podcast series. He has served as vice-president of the Edmonton Jazz Society and is a founding member of the Alberta Centre de développement musical. Dominique is also the brother of François – and traveled to Egypt in 2020!
B.A,  B.Ed, University of Alberta
Music Diploma, Grant MacEwan University
2021 Prix Radio-Canada Award – For support of emerging francophone artists
2021 Canadian Podcast Awards: La place – Exceptionnelle francophone series
Special Guest Commentors from Egypt
Hossam Ragab
Egyptian Egyptologist Guide
(Episodes 1-5)
A graduate of Helwan University, with a MA in the New Kingdom, Hossam has a vast array of information on all things Ancient Egypt – and modern Egypt too! His personal interest crosses the Pharaonic, Coptic, and Islamic eras of Egypt's history, and he provides a thorough and engaging perspective into the lives and times of each era. His calm demeanour, friendly manner and sense of humour have made him one of Egypt's most sought-after guides and we're thrilled to have him as part of the Ancient Egypt Alive family.
Nabil Labib
Egyptian Egyptologist Guide & Architect
(Episodes 6-10)
Nabil is a respected architect and Egyptian Egyptologist who has led tours to Egypt for more than two decades. As a professional architect, he also brings a deep understanding of the ancient monuments and their construction. Nabil is an in-demand lecturer and tour director who holds two degrees both from Helnan University: Architecture and Tourism. He brings warmth, a rich knowledge of the sites, along with a personable story-telling style to bringing the history of Egypt Alive.
Episode One Part One: The Giza Plateau & The Great Pyramid of King Khufu
In this week's episode, Laura and Francois take you to the great Giza plateau, site of the pyramids of Khufu, Khafre, and Menkaure. They discuss this famous pyramid site in ancient times–and how it is transforming today to ensure its protection and accessibility for tourists. Lots of interesting observations on Khufu's pyramid and how this wondrous site has captivated travelers, explorers,and dreamers for millennia! Explore More Here!
Episode One Part Two: The Giza Plateau & The Great Pyramid of King Khufu
In this week's episode, Francois and Laura continue their discussion on the Giza plateau delving into discoveries over recent decades: Merer's papyrus (oldest ever found), an ancient journal of the shipman that brough stones to the Great Pyramid, the village of the pyramid builders… and what archaeologists are seeking today in the area of the Giza Plateau.
Episode Two: The Great Sphinx and Pyramid of Khafre
In this week's episode, Francois and Laura continue their chat on the Giza plateau looking at Khafre's Pyramid and the famous Sphinx. Khafre's pyramid – the second biggest in the world – is notable not just for its size and grandeur but the marvel of its other structures – a well-preserved mortuary temple, causeway – and a Valley Temple with stones of enormous size. Then of course there is the Sphinx. Who built this monstrosity – was it Khafre? What is the symbolism behind it? And how did it lose its nose? Francois and Laura will delve into the many confounding mysteries as they look at the Egypt's Great Sphinx.
Episode Three: The Egyptian Museum
The beautiful neoclassical pink building near Cairo's Tahrir square has been home to Egypt's most treasured artifacts for more than a century. Thousands and thousands of them! So much so that it has been called an antiquities warehouse. Objects crammed into corners. Yellowing display cards. But it is all changing now. Join Laura and Francois to discuss the wonders of this stunning old museum, its future beyond the opening of new museums, and how it is being transformed into a museum of masterpieces.
Episode Four: Saqqara and the Step Pyramid
Egypt's first pyramid – and the world's first building in stone: the Saqqara Step Pyramid. An amazing site to visit today – all the scaffolding gone and with entrance possible through the tunnels of the substructure. In this episode, Laura and Francois chat about this revolutionary structure, its architect, king, massive surrounding complex – and reveal just some of its secrets!
Episode Five: Denderah Temple of Hathor
Egypt's first pyramid – and the world's first building in stone: the Saqqara Step Pyramid. An amazing site to visit today – all the scaffolding gone and with entrance possible through the tunnels of the substructure. In this episode, Laura and Francois chat about this revolutionary structure, its architect, king, massive surrounding complex – and reveal just some of its secrets!
Episode Six:
The Grand Egyptian Museum (GEM): Billion-Dollar Home for Tut's Treasures
Zahi Hawass calls it the greatest cultural project of the 21st century. It's the largest archaeological museum in the world that stands at the foot of the Giza Pyramids. Recorded just prior to its opening, Laura and Francois discuss its incredible 20-year construction history, its massive Ramses statue, stairway of kings, hanging obelisk, and 4600 wooden boats of the king! Let's delve into what to expect in this record-breaking world museum where all of Tutankhamun's objects have been carefully restored and will be displayed in a breathtaking walk through his brief life and celebrated death. What a magnificent afterlife this museum presents for the boy king!
Episode Seven:
 Philae Temple of Isis: Magic. Mystery and Egypt's Last Enduring Temple
Ahhh… Philae Temple, the last surviving temple of Egypt – and the domain of Isis, goddess of love and beauty. In this week's 
episode
, Laura and Francois will delve into the fascinating cult of Isis, the beloved and its intersection with Christianity, the interesting history of the temple, its beautiful location on an island in Upper Egypt – and how it was moved in its entirety in an incredible engineering project during the 1970s to save it after the construction of the Aswan Dam. Philae is a Greco-Roman era temple – the last pagan worship centre to survive all the way to the 
6 the
century CE with many interesting secrets and vestiges of the very last hieroglyphic writing. Don't miss the tale of this magical place!
Episode Eight:

Cairo: The Story of a Vibrant Victorious City
From its earliest origins in the fort of Babylon… to the tented town of Fustat…through the rise of Al Qahirah, sacred city of the Fatimids, Salah al Din and the Crusades… all the way to the Arab Spring of 2011, Cairo's history is as vibrant and dizzying as its colourful and crowded streets today. Come learn some of the little-known stories about its citadel, mosques, qasbahs, fountains, markets, colourful sultans and emirs… and its utterly fascinating history from medieval to modern times. Laura and Francois will unravel the tangled wonder of this intoxicating ancient city.
Episode Nine:
Colossi of Memnon Reborn: The Resurrection of the Greatest Mortuary Temple of All!
It was the largest temple ever built all in one go – for one god! Yet, with earthquakes, flooding, looting and a thousand natural calamities, all that has remained for centuries are the two famous colossal statues– The Colossi of Memnon – standing like great guardians of the West Bank.  Amenhotep III, Egypt's golden king rich in wealth and alliances, built this great memorial temple to keep his cult alive forever. Now, a great Armenian archaeologist Dr. Hourig Sourouzian is resurrecting this sacred place… and allowing Amenhotep to shine again. Learn about the exciting works afoot to restore the greatness of Kom el Hettan with its the Colossi of Memnon gateway. Francois and Laura will discuss the fascinating history, the legends, and the exciting new finds and accomplishments at this most exciting and active archaeological site.