My Decade of Egyptomania
by Laura Ranieri
Khufu took almost 30 years to build the great pyramid. Some 4600 years later and for one sweet decade, I have immersed myself in the world of Egypt, both ancient and modern. It has been a journey of empowerment, adventure and transformation that has taken me up and down the Nile 8 times. I've been transported to the foot of colossal works of man from the pyramid age through the Roman era– Giza, Dashur, Meidum, Lahun, Amarna, Luxor and Aswan. I've scrambled up countless limestone cliffs and crawled deep inside the mysterious bowels and labyrinthine tunnels of the Egyptian afterlife.
I've combed ancient sites, sifting and searching under the sands, from the first pylon of Akhenaten's Great Temple of Aten to the Nubian tombs of South Asasif in the blistering dry heat of Luxor's west bank -50 plus celsius or 120 fahrenheit (during the August 2015 heatwave).I have been privileged to rub shoulders and break bread alongside great men (and women) of archaeology, including the legendary Barry Kemp CBE who has led excavations at Amarna for more than twice the time Akhenaten inhabited the site.
I interviewed Valley of the Kings archaeologist Ted Brock in his Heliopolis apartment just a year before his sudden death.  I have sailed high above the valley with Re at sunrise – three times – in a hot air balloon. Snorkeled the bath warm Red sea waters near the ancient port of Quseir, past lion fish, sting rays and coral groupers – much the same marine life as Hatshepsut's journey to Punt trade mission encountered millennia ago.  I've been buzzed by helicopters. Broken down in taxis at midnight during summer Ramadan, Slept under an open sky in the heat and solitude of the white desert, watching the great swirl of the milky way above. Been seduced on Nile feluccas, in food courts and in hotel lobbies by ardent dark-eyed locals. Watched tents burn in Tahrir. Been transported by the honey-voiced Imam at Sultan Hasan mosque, that powerful spiritual mecca where shivers always run up and down my spine. Greedily drank in the luxuriant colours, vibrant sounds, architectural glories, seething life, squalor and hustle bustle of medieval El Muizz street and Khan el Khalili market. Smoked apple shisha at Abu el Sid…Celebrated as proud flags rose, sticks clacked and arghouls moaned in Luxor's lively local festivals.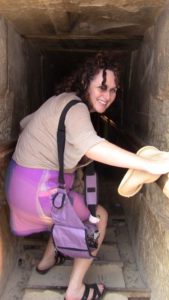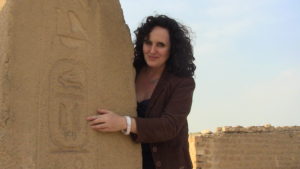 Rode donkey back through banana fields to the Valley of the Kings – and climbed way up to trace the crest of the pink mountains, hiking across to Meret Seger (when you still could), following the path of ancient workers, gazing down on the wonders of Deir el Bahri and glimpsing short-term crash pads of the ancient tomb artists hidden up in the hills. I have cleared bags and bags of local trash heaping up around the Amun Rams along the desolate Avenue of Sphinxes in summer 2015 – with the help of a small team of scholars, seniors and local youth. Rode growling, spitting old camels up to Aswan's San Simeon monastery in the red light of dawn. Took feluccas to banana island at sunset. Ventured to the ruined splendor of Tanis, Bastet… even Coptos, sharing tea with its ancient family of archaeological workers, the Quftis. Toured the palaces, library, harbor and crowded metropolis of Alexandria, seat of Cleopatras Egypt.
I have gorged on baladi breads, from stone ovens, delectable kushari, falafel, baba ganoush, chicken and lamb tajines, ful sandwiches and crisp, garden cucumbers and tomatoes. Explored king's valley in-depth with top scholars, skilled workers, archaeologists….even possible descendants of the ancients themselves, whose families have lived in and above the tombs for millennia. Even possibly encountered a ghost over late night G&Ts in the sumptuous colonial-style bar of the lavish Winter Palace… Along the way, I have even tried to help whatever dog, donkey, or ailing horse I encountered.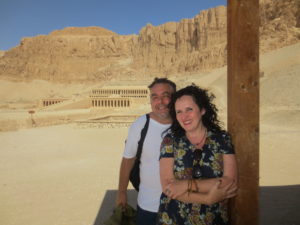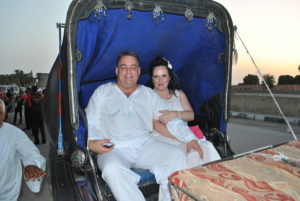 And In 2015, I got married in Egypt. My French Egyptologist husband Francois and I – who I met at a Toronto Egyptology conference – actually pronounces our wedding vows in the presence of Mut at Karnak Temple – at a magical dusk. Not to mentioned been transported by street musicians, pantomime horses and sufi dancers in the streets of Luxor to celebrate our marriage nuptuals. Much of it thanks to a very resourceful and brilliant expat lady from northern England who arranged it all.
Through these 10 years, I have also witnessed a country plunged into uncertainty, chaos, poverty, and a topsy-turvy world. Much like the famous intermediate periods of ancient times when Egypt became decentralized and civil war was rampant. I have seen sites empty, with garbage piling up, middle and working class people and their children suffering with no work, no money, no food – and no certainty for the future. I have seen Tahrir burning. Driven the backroads on election day. I have been inside the Great pyramid literally alone. No tourists, upon which the economy is  dependent. And I won't even talk about the suffering of the animal life.
This journey has set fire to my mind, my thirst for knowledge… and my desire to create, communicate and open the way for others to engage with this great civilization. Perhaps to do my small part to inspire travelers to return to the land of the pyramids – and so much more.
This journey has also taken me back to school (in middle years) to gain my Masters in Egyptology at the University of Toronto, a grueling journey of intense study that took me almost full time from 2011 through 2016. During my University years I was inspired to create Ancient Egypt Alive, an organization now co-directed with my irreplaceable travel partner Anna MacKay of Your Journey.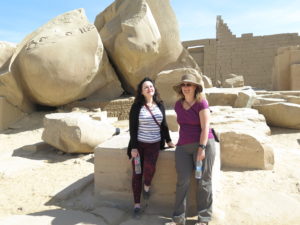 In fact it was with Your Journey Travel, an Ancient Egypt show at Toronto's AGO – and the hypnotic image of King Akhenaten — that this decade-long Egypt journey began. Yes, perhaps it was the eternal power of this heretic and often maligned pharaoh, the inspiration for Moses and first idealist – that sparked this incredible journey… Here is a picture of us at the start of a fabulous full tour in Cairo, up the minaret at Ibun Tulun Mosque.
And now a retrospective of my (almost) annual trips to Egypt over the last decade:
July/August 2010
Becoming Wepwawet (opener of the way): A first expedition across Egypt to test a new tour route, including fayoum and Amarna (with then boyfriend David). I was brazen enough to wrangle an interview with Barry Kemp in Cairo (and Andrew Bednarski too).
Six months before the revolution, the country was quiet, very hot… the sites were near empty, especially at out of the way Lahun, Meidum and Karanis… We travelled the country close to 4 weeks overlapping festive Ramadam, led by a wonderful guide Mourad el Abd. Out of it, came a full-length story for Britain's Ancient Egypt magazine, two articles for Canada's Dreamscapes, a 20 min video – And a new tour that Anna and I would begin to market! Also, the resolve to go back to University of Toronto to become an Egyptologist – and jump in with two feet.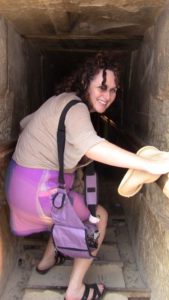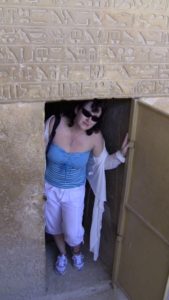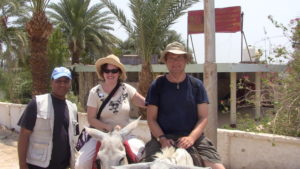 Highlights:
Succulent chicken and fresh stone oven baked bread at Andrea Mokkatum terrace (Cairo)
Meidum pyramid: Climbing up to burial chamber – then scuttling into a rarely penetrated old Kingdom tomb, pre-dating the Giza pyramids
Touring the Ptolemaic town of Karanis, in the Fayoum, with its two story houses
Tuna el Gebel – catacombs of ibises and baboons – and being attacked by bats in a Roman well
Intimate tour of Amarna, Akhenaten's capital, walking the promenade in the town Minya at night, people out celebrating Ramadan.
Sweet, crunchy red dates, fresh from the palm trees – and the markets at Beni Hasan village
Denderah, Cleopatra's Temple with its stunning blue astronomical ceilings, winding stairs and magical Hathor columns. First time there, blew my mind!
Almost fainting in 50-degree heat, Valley of the Queens
Cascading infinity pools at the beautiful Movenpick Aswan, on Elephantine island
Beach resort at Port of El Quseir, Red Sea (Hatshepsut's ancient port area)– I snorkeled with lion fish in broiling sea water (temperatures 45 and up outside), lay lazing in a shaded wicker beach chair reading Kent Weeks, the lost tomb, actually yearning to return to Cairo
Vibrant last night Cairo, Khan el Khalili during Ramadan festivities, the streets alive and resounding with music, laughing and celebrations, people out picnicking with families, spilling out of brightly lit mosques. Last dinner with Mourad and driver Badr at the fabulous Naguib Mafouz café.
December 2011
Turmoil, dearth and uncertainty:  A fascinating & scary Egypt post revolution (Cairo, Bubastis Tanis, Alexandria and Luxor)
After the fall term of my first year back in University, I was drawn back, to experience the sites more intensely, as a serious student of Egyptology. I traveled alone, stayed at the little 3 star King hotel in Dokki, was hit on by men repeatedly (but never felt really unsafe). I was also wonderfully toured through a ravaged country by a range of fabulous guides – some quite famous in Egyptology circles, and I was personal witness to a country in turmoil. I saw the tents burning in Tahrir.  I was even there during election day… driving through the Delta towards Tanis. What changes I witnessed in the 15 months since I was last there!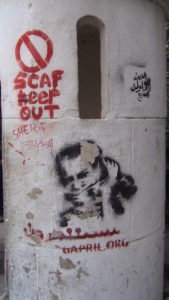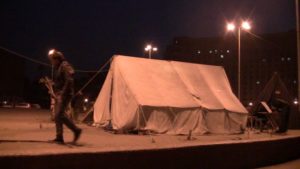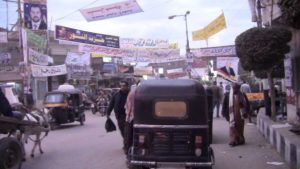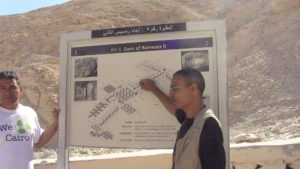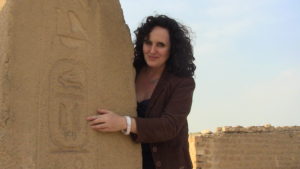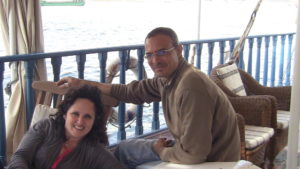 Highlights:
Arduous journey to Bubastis and Tanis –traffic at a snail's pace on agricultural roads all the way to Alexandria on election day
Nearly private experience of Giza pyramids with handsome young Egyptologist – was alone in Great Pyramid
8 hours at Sakkara with the vibrant, erudite and entertaining guide Ahmed Seddik – what a full and awesome experience
Revolution walking tour of downtown Cairo at a dangerous time (again Ahmed Seddik). Scientific library was set on fire, riots, We crossed the Gezira bridge, paid respects to Oum Kalthoum at Opera house, tour disbanded with panic, some Danish girls in tears, fearful as news came a woman was just beaten near the square and curfews called… I took cover in my little hotel
Wonderful Amon hotel, Luxor west bank favourite of archaeologists, Nights having drinks around firepit in verdant, romantic courtyard with French archaeologists working at Ramesseum.
Baby foal being born in West bank stable – Sunset horse back ride on stallion Ramses across the peaceful west bank
Fabulous dinner at Africa restaurant and sunset felucca to banana island with Magdy
Tea on Kent Weeks dahabiya, a special experience
In-depth tours to Noble tombs, Kings Valley, Karnak – led by Kent Weeks number one local archaeologist, Ahmed
Stick fighting festival near Luxor temple
Very chilly first balloon tour – soaring over Medinet Habu as the sun rose!
February 2013
Digging at the Great Temple of Aten, Amarna
This was my fabulous 2 week experience (mid term – taking time off from University) joining Barry Kemp's very small team to excavate at the site of the Great Temple of Aten, Amarna. <Read the full experience here, on the ROM blog>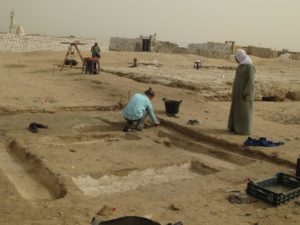 Highlights:
Sifting sand and learning snippets of Arabic ("forsha", "mastalain") with the workmen at the first pylon
Second breakfasts of foule and eggplant villager sandwiches with hot tea in the dig site tent
Sunset G&T's on the Amarna dig house roof, watching the sky turn pink
Open truck rides down the road to the dig site each morning at 5
Breaking the law by walking (running) to the dig site from the dig house, over the sand covered mounds of ancient Akhetaten, pursued by lumbering guards yelling "Stooo—pp!)
Private tour of the sadly garbage strewn noble tombs in the hills, by guards with guns patched up with masking tape
Tour of Akhenaten's tomb in total blackness, as generator gave out. Guards flashed their cell phone lights to find our way
"Goats were on the roof again last night" – charming snippets at Amarna house breakfast
Music party around the fire. I played songs, many of mine, on beat up old guitar for the archaeologists, including (appropriately in the land of Aten) "Sitting in the sunshine". Barry Kemp requested ABBA!
July/August 2014
Romancing the stones: From Mena House and the white desert to a private Qufti tour of Luxor and Coptos
A most romantic and dramatic trip, again in the broiling heat of deep summer, with my future husband and fellow Egyptologist Francois (though we were only 6 months into dating – and not engaged yet– Met earlier that year at Egyptology convention). It was an exhilarating experience, arriving from Israel by way of Jordan and Lebanon (an arduous and harrowing route out of Israel via occupied territory due to rocket attacks out of Gaza). The unique experiences we had and wonders we witnessed on this trip stand out as my favourites — in all my tours.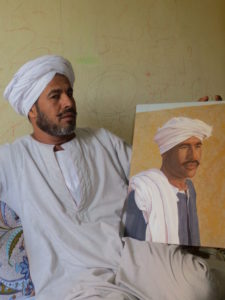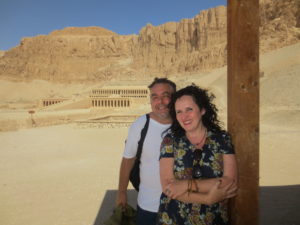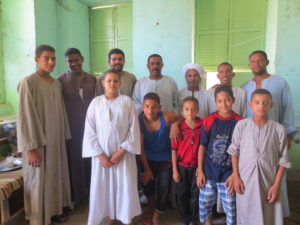 Highlights:
Evening shisha in the moonlit glow of the Great pyramid on the luxuriant patio of the Mena House – after a harrowing journey out of Israel.
Evening in Heliopolis – sun city – Interviewing the late great archaeologist Ted Brock in his apartment, a year before his untimely death
Taxi breakdown in Giza at midnight during Ramadan, worried and exhausted, making our way on foot through the packed and jubilant streets, still bursting with celebrants, to get back to Mena House.
Being buzzed by helicopters as car passes final checkpoint into white desert (scary!)
Summit of all travel experiences: A night alone in the great white desert, sleeping naked in the heat under the white band of the milky way
Native archaeology guides – local Quftis — whose great grandparents served the famous Flinders Petrie – guide us over the mountains from Valley of the Kings to Deir El Medina. following the path of the ancient workers
Meeting Jeanne Whitehurst, the enterprising and courageous English lady, former Mayor, who moved to Luxor, learned Arabic and married a local. One year later she would arrange and officiate our wedding!
Drinking Fanta in the blistering heat, swimming in the  pool of the Steigenberger in the heart of summer
Visiting Coptos – home of the Qufis – a very special experience
July/ August 2015
Archaeology at Asasif  And Wedding in Luxor
What a trip! Francois and I volunteered at the fascinating site of South Asasif, West bank Luxor on the excavations of 8th century BCE tombs of Nubian kings/royals who ruled Egypt during the 25th Dynasty. Not only was it hot summer in Egypt (we are gluttons for punishment again), the country was going through a debilitating heat wave with temperatures soaring to way over 50 degrees. We stayed on the west bank in a big room at the modest Gezira gardens, mosquito net and ceiling fan above our bed. The archaeology dig, we found, was poorly managed. A great site where they had found mummies and coffins – and we personally found Greek era pottery, which was exciting. A dark round object we found generated great excitement – a skull? But my first whisper – "maybe just an imported coconut?" was indeed right. Insufficient shade and arduous work conditions made this whole experience grueling, to say the least.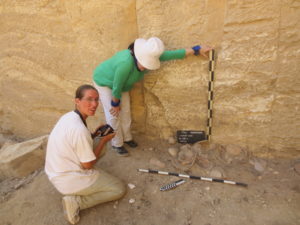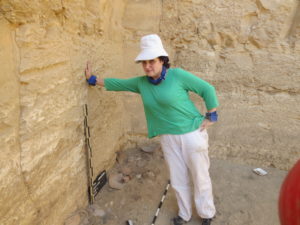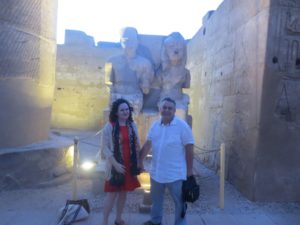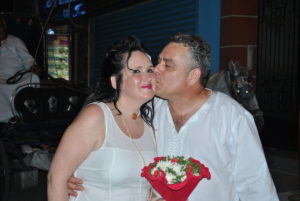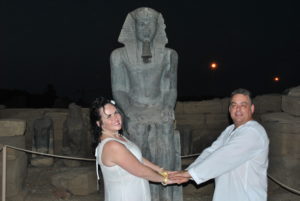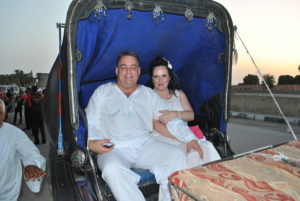 The second part of our 2015 trip was, however a true pinnacle, : preparing for the most joyous event of our life, our wedding in Luxor. Our friend Jeanne arranged it all for us: ceremony at the Franciscan church, horse and carriage ride, flowers from the Winter palace. She even bribed the guards at Karnak temple to allow us to say our vows at dusk in the presence of Sekhmet in the Mut temple. The day before our wedding we showed gratitude by doing an act of charity. With a small group of school kids, Jeanne, and our friend Tarek Rageb, we embarked on a cleanup of the Avenue of Sphinxes near the 10th pylon, which were sadly covered in trash. Another blessing: the outstanding Luxor Hilton (where we stayed for just two glorious nights) offered us a free photo shoot and wedding celebration in the lobby. Wow!  With a beautiful ceremony (thanks to the Franciscans and Abd el Malek Samy) street musicians, sufi dancers, pantomime horses, dusk vows at Mut Temple, and a fabulous dinner at Aisha – our wedding was a fantasy, a dream – an unmatchable highlight of our lives.
Highlights
Excavations at South Asasif in blistering heat wave (the temperature gave essentially stopped working – way over 50)
Watching opening of Suez Canal parade in East Luxor from 2nd floor of Café Latte
Private explorations of Carter House and rarely visited Seti I temple nearby
My solo long on West bank walk past Colossi of Memnon all the way to Medinet Habu to explore alone, with a thoughtful tea at Belzoni café.
Riding local buses and local ferries, being mobbed by school kids and teenagers, as a westerner
Cleaning of Avenue of the Sphinx, with Jeanne, Tarek and team
Stay at Luxor Hilton – one of best hotels I have ever stayed at – and complimentary wedding photo shoot,
Resplendent, dreamlike wedding, thanks to the great generosity of Jeanne Whitehurst!
Group tours 2016, 2017 & 2018
Bringing Ancient Egypt Alive
The fulfillment of a vision. Three fabulous tours packed with passionate travelers for whom we sought to bring Ancient Egypt Alive. Each was unique in its own way. The first was 2012 (but I did not go with group) the 2016 tour was very indepth and inclusive of a private tour of Amarna with Barry Kemp. Now on the verge of our 2020 tour, it is wonderful to remember all the people, places and beautiful experiences
Highlights
Touring the sites with Ramy Darwish, one of the best guides in Egypt
2016 Amarna, sharing drinks and Shisha at the patio in Minya with Barry Kemp and Miriam Bertram
El Moezz street, and falling deeper in love each year with Cairo – small group tours led by Francois
Raising money for animal causes
Camel rides to San Simeon Monastery
Singing opera "Carmen" as I raced triumphantly into Sneferu's red pyramid, Halloween early morning 2018 with the great group.
Peaceful nature felucca ride in beautiful Aswan, watching birdlife
Experiencing Thuthmosis III strange and wonderful tomb in Valley of the Kings at dusk
Ramesseum at sunset!
Almost crying in the beautiful newly re-opened tomb of Nefertari, because the moving beauty!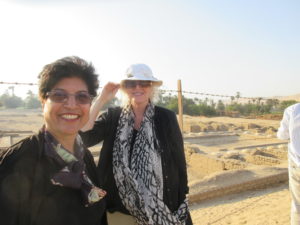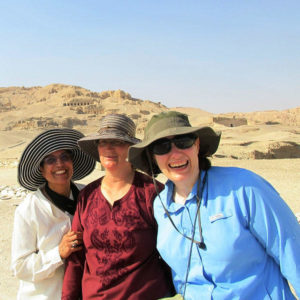 What does the future bring? My next decade in a new, revitalized Egypt. Only time will tell. But perhaps the eternal pharaohs, already have wonderful plans in the works….
###