The Revival & Renaissance of Egypt's Capital
By Laura Ranieri-Roy
Egypt is long over-due for another age of glory — and it may be underway now. No other civilization on the face of the planet has gone through so many tidal waves of change over so many millennia. 5000 years of rising and falling. Great empires here and gone. Astounding works built and destroyed. Debilitating wars, invasions, famines and religious revolution. Like a millenia-old tennis match, it has gone from foreign occupation to proud independence, over and over again, right up until present time.
Since the 2011 revolution and the ousting of Mubarek, Egypt has been struggling through one of these chaotic "intermediate periods". Strife, political uncer and economic hardship has characterized the land for much of the last ten years. Each year during this troubled decade, I have personally journeyed to Cairo and Egypt as a traveller, tour leader, and even an archaeology student. Yes, I have been under Egypt's spell my whole adult life – even getting married there in 2015 near Karnak Temple in the blistering heat of Augu.
I have visited Giza when it has been like a ghost town and climbed into the Great Pyramid, all alone.
I have seen the tombs in the Valley shut their doors, dwindling down to a mere few open for business due to lack of tourists and resources.
I have seen guards in tattered clothes leaning against their posts with broken, duct-taped machine guns. Shook my head as those iconic grand hotels of Cairo boarded up their doors.
Witnessed heaps of rotting garbage piled up around the great avenue of the Sphinxes, and in great tombs grown desolate.
Been rushed by young boys in the street begging me for a few pizza crusts because they were desperately hungry.
And I don't even want to talk about the camels, donkeys, horses and dogs.
Hard times indeed. A dearth of tourists, no money and bleak prospects for jobs.
But all this has now changed – or is in the process of changing fast. Sisi, that respected pharaoh of today, has channelled his strong military background to restore "Maat" admirably, keeping security strong and making critical steps to boost the economy, which is largely reliant on tourism.
People, prosperity and pride returning to Egypt
Crowds of joyful tourists are again flooding the plateau, museums and the great sites. The parking lots full of buses again. The travel warnings lifted. The streets are clean and safe. The boats are on the Nile. Hotels are re-opening, refurbishing – even expanding. The great sites are neatly swept and back in business. Travellers from Asia, Europe, Russia and the Americas are flocking back to stand in awe before the great wonders, filling the streets with multi-tongued chatter, laughter, shouts, excitement… and hope. Ahhh… to hear "Welcome to Alaska" and other local clichés bellowed with a renewed vigour and enthusiasm by those pesky vendors in the marketplace, waving Tut busts and flapping Pyramid postcards, so relieved to see the customers finally return, wallets wide open.
A city ready to shine again
Once called "Paris on the Nile," Cairo itself started to fall into disrepair in the 1950s. 70 years later, and after the tidal wave of recent troubles, it is at long last being dramatically restored and revitalized, building by glorious building. What's driving this momentum? Certainly, Cairo must boost its economy, to ensure a future for its youth — and the preservation of its great past. But, at the forefront driving change is a massive investment in the greatest museum of them all, the GEM, slated to open its doors near the pyramids next year…
Here are five reasons to come back to witness to rejuvenation and triumphant rebirth of Egypt, and Cairo in particular, in coming years.
1. The Grand Egyptian Museum: Late 2020 opening?
Egypt is building a new monument known as the GEM, according to Tarek Tawfik, director general of the Grand Egyptian Museum. When finished, it will be, bar none, the largest archaeological museum in the world, displaying Egyptian artifacts from eras ranging from the pre-dynastic (before 3100 BC) through the Greco-Roman (up to AD 395), and situated in the most spectacular location: just 1.2 miles from the Giza pyramids. The aim? To enhance but not overshadow the great wonders– and provide striking views. (The project's price tag is $1.1 billion, $750 million of it in loans from Japan. The opening date is in 2020—inshallah. The museum's star attraction will be Tutankhamun—all of the 5,400 artifacts Howard Carter discovered in his tomb in 1922. And this goes beyond masterpieces behind glass. You will be able to experience his lifestyle up close and personal, see his shoes, examine his nick-nacks and feel, more or less, as if you're attending his funerary procession.
2. Experience Moorish Grandeur and Ghost Stories at The Hindu Palace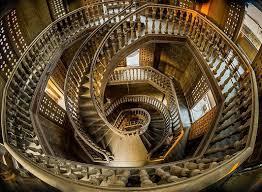 In ancient times, Heliopolis was the centre of the sun cult of Egypt. Today it is a once-dazzling suburb of sprawling Cairo (near the airport) buffing up its grandeur again. Heliopolis was developed in part by a Belgian builder and industrialist Baron Empain during the Beaux Arts age, a man who also built the Paris Metro. His crowning achievement in the area was his fabulous Great Hindu palace (or Baron Empain palace), a part Moorish, part Persian, part Indian architectural coup inspired by his travels in Angkor Wat and constructed between 1907 and 1911, Sadly upon his death in 1929, the Baron passed it on to a few irresponsible heirs and it finally fell into disrepair after the 1952 revolution. Stories of mysterious deaths (like the Baron's wife who fell from a tower), wild parties and weird satanic rituals during it abandoned years, has lent mystery and intrigue to the magnificent structure, with its stunning winding staircase. After a USD $6 million-dollar restoration, the Hindu palace of Heliopolis should re-open to the public late in 2019.
3. Venture Inside The Bent Pyramid – for the first time in more than 50 years
Yes, there are pyramids in Egypt that actually pre-date the wondrous ones at Giza. And they as amazing, arguably even more-so. Now, you can travel to Dashur (half an hour or so from Giza) to visit King Sneferu's Red and Bent Pyramid – and actually crawl inside its scary passageways. The Bent was the third pyramid ever built in Egypt (after the Step and Meidum) – but Sneferu's builders got the angle wrong, so it is terribly crooked. It also did not help that it was not built on a firm base, just the shifting sands of the desert beneath. It is a fabulous pyramid just to view from the outside retaining much of its limestone casing which would have gleamed in the sun. For the first time in 5 decades, the general public can crawl inside this marvel that is the Bent pyramid. Dare to enter where for years only bats flew, and explore its eerie corridors. The Red, the first perfect pyramid, is also open nearby at Dashur, and has been for years. It is a challenging climb, but for me The Red has always been a highlight of my pyramid explorations, even ahead of the ones at Giza.
By the way, Lahun pyramid from the Middle Kingdom (c. 2000 BCE) has also recently re-opened. This collapsed mud brick pyramid of Senwosret II, however, is located a fair trek from Cairo, so it is definitely an off-the- beaten-track excursion.
4. See Royal Mummies at The National Museum of Egyptian Civilization
As if the old Cairo museum and the new one in Giza weren't enough, there is yet another extraordinary museum now open, at least in part in Cairo. The National Museum of Egyptian Civilization (NMEC) situated in the area of Old Cairo is a palatial structure in gleaming granite, massive inside. It aims to highlight the technologies of Egyptian civilization—how through the ages Egyptians wrote, wove, worked in wood, made jewelry, built homes, and more. Right now, there's a temporary, one-gallery exhibition, "Egyptian Crafts Through the Ages," organized to give a taste of what's to come. Plus, there its star attraction is royalty itself. The Royal Mummies have been transported here from the Egyptian Museum to become the NMEC's main draw. This is where you can come pay respects to the impossibly handsome Seti I, or gaze on Ramses the Great, with his Romanesque nose and orange hair.
5. Witness The Rebirth of the Old Egyptian Museum in Cairo Reborn
For me, it will always be one of the most magical places in the world, let alone Egypt. The century-old Egyptian Museum near Tahrir Square, once overflowing with 170,000 antiquities has been more of a warehouse than a museum, another true wonder of Egypt, where the spirit always resides. Today, many of its antiquities have been transported (or are in the process of going) to the new museum in Giza and the NMEC. But this 'grande dame' of Cairo now has a wonderful new lease on life. Big plans are afoot for a transformation and facelift. Auguste Mariette's 117-year-old antique will be re-invented as a 'museum of museums, the only structure in the world immersing the visitor into the world of museums of the past. By the time GEM opens, this will be another masterpiece of Egypt. Its contents? Why 5000 of the most iconic pieces of Egyptian history.
What's also exciting is that there are plans for the museum to remain open at night – and for subways to connect all three of Cairo's unique museums!
Did I mention plans for a new Cairo area airport too? The Sphinx International airport at Giza is coming…soon I hear. Imagine just flying in for the weekend to pop into the Great Pyramid, then drinks at Mena House… Ahhh… splendid times ahead, for certain.